11

jul, 2019
Where Iberian pigs are bred?
The Iberian pigs can be bred in different environments according to its necessities. While the Iberian pigs of acorn are bred in the pastures dedicated to this purpose, the Iberian pigs of cebo are raised in breeders, under a regime of extensive breedin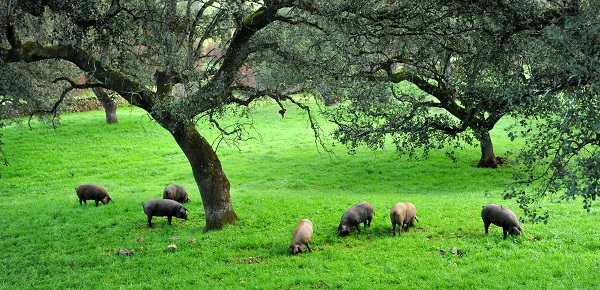 What are the pastures?
The pastures are Mediterranean forests, mainly located in the areas of the southwest and west of the Iberian Peninsula. They are composed of large extensions of terrain with pastures and trees, mostly holm oaks and cork oaks. These extensions of terrain are essentially destined to animal husbandry, to hunting practice and to the exploitation of forest resources. These types of extensions have a great importance on an economic level for the rural areas whose main economic activity is based on agricultural activities.

Which is the importance of the pastures?
The importance of the pasture in the breeding of the Iberian pigs comes from the diet followed by the pigs in the pastures. There are a large number of acorns that provide the ideal food supplement for the pigs during the last months of fattening. Moreover, the waterholes are separated from each other, promoting the exercise of the pig. In this way, the pigs strengthen their muscles and the fat is absorbed in their muscle mass, producing juicier hams.